The information you obtain at this site is not, nor is it intended to be, medical or health advice. You should always consult a licensed doctor or health professional
for any advice regarding your child's care. Most importantly, use common sense and do not introduce any new products or medicines without proper evaluation and supervision. Always be safe and never leave your child unattended in an unsafe area.
If you want us to check out a product that you found useful we welcome you to contact us here.
The Otteroo
We stumbled across the Ottero after Holton began taking aquatic therapy classes in our community pool. We found this to be an ideal way for us to work with Holton in the water without the therapist. He seems to enjoy it as he's comfortably and safely supported by his chin. It certainly looks a little odd but it frees up his limbs so that we can work on his flexibility with ease. You can learn more about this cool water flotation device at www.otteroo.com.
It's important to remind everyone to never leave your child unattended in a pool or bathtub.
The Little Room
We first learned of the Little Room, made by a company called Lilliworks, from Holton's vision therapist.
This therapy device is designed to primarily help children who have extreme visual impairment. The premise is novel as you are free to hang household items from the well-designed structure. The concept is that as the child reaches around they'll create stimulation by the dozens of sounds, textures, movements and vibrations that come from the varying removable wall panels.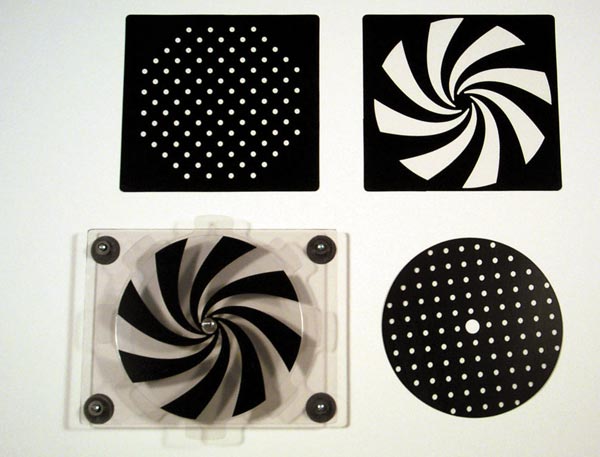 Mini-lite Box
Holton's vision therapist was also the person that introduced us to this Mini-lite box made by APH aka American Printing House for the Blind, Inc. This is a great therapy tool for children with CVI (cerebral vision impairment or cortical vision impairment).
When the room lights are turned low this light box illuminates and works to grab the child's attention. There are countless attachments and color gels that can be purchased and used to stimulate the child's vision.
LED SPINNING LIGHTS
This is not a device designed specifically for therapy but that doesn't mean it's not an amazing tool for visually impaired children. For patients whose vision is poor, this $5 toy serves as a great visual stimulant during therapy sessions.
We use this tool on Holton somewhat regularly as we attempt to rebuild the neurons that allow him to look upwards. We've found the bright lights and hypnotic movement seem to instigate him to make attempts at looking more along the natural horizon.
These unique blankets can be best used on children who have sensory and calming issues often associated with autism, ADHD and sensory integration disorder. We find that the added weight seems to give our son the sensation that we are a still snuggling with him even though he's in the crib. For infants with limited movement these blankets are a nice option as they don't move around easily in the crib.
I found a company called CuddleSense on Etsy that makes these cool blankets in an assortment of fun patterns. This company says, "the evenly distributed weight provides a soothing 'hug' and stimulates touch receptors to induce calm - giving kids a nice, firm feel when they lay under it."
We do not advise putting anything in a crib with a sleeping baby. Please make sure you pay close attention to and follow any products instructions. Always consult a professional when seeking medical or parenting advice.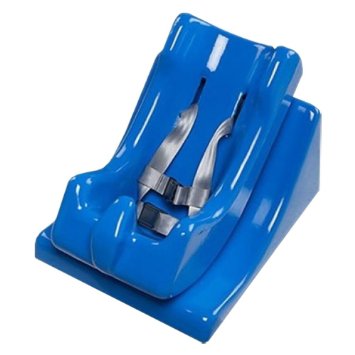 TUMBLE FORMS Deluxe Floor Sitter
Baby seats in general are fine for most infants affected by TBI but as they get older and grow larger options for proper furniture quickly evaporates. We discovered this floor seater and wedge combo when searching for new sitting options for Holt as he approached turning one.
Holt's physical therapist was placing him on one of these during his in-clinic sessions and it seemed very versatile. We purchased this two-piece set for $470 at a retailer site.
The Tumble Forms chair allows us to place our son in a more appropriate sitting position instead of the standard 'laying down' position. The position is easily changeable as the seater and wedge are connected by a simple, but effective large swatch of velcro. The safety belts assure our child will be secure even in the event of a seizure.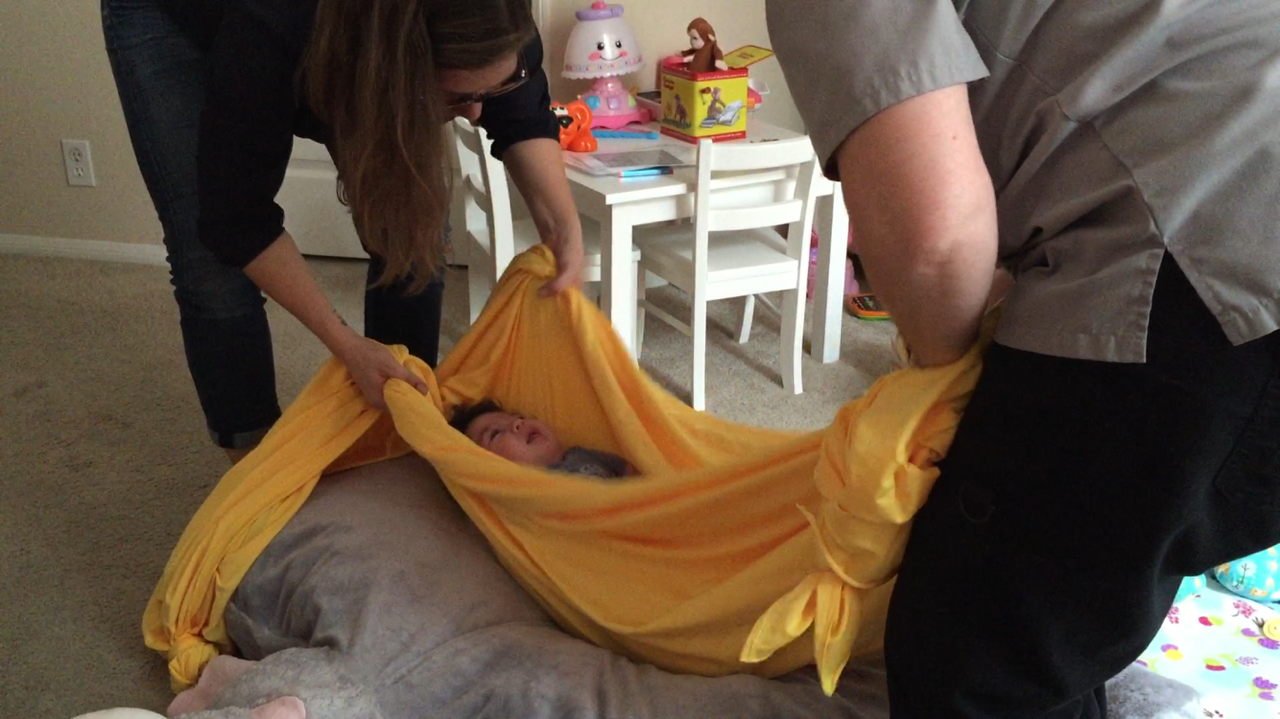 When Holton first came home from the hospital after his initial stay, one of the first things his occupational therapist did was work with Holton in a lycra blanket. We believe the lycra hammock (or lycra sheet you can get at any fabric store) helps with sensory integration which is a process that starts in utero.
Our brains take in sensory information received from the body or surrounding environment and then process that info in order to provide a direct response. This sensory integration is paramount for motor skill development, social interaction and overall focus and the lycra sheet helps stimulate this awareness.
If you have the space, we found a good one at Stacy's Sensory Solutions.